This Week
Second Sunday of Easter (Or of Divine Mercy) - April 11, 2021
Thursday, April 8, 2021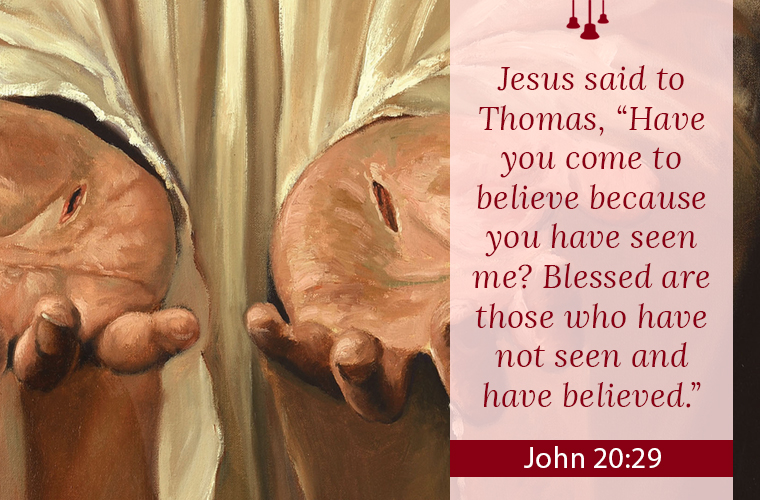 Thursday, April 8, 2021

The Psalms in the Liturgy
The book of Psalms is a prayer book, hymnal, and anthology of verse all rolled into one. It contains one hundred fifty ancient songs poem-prayers that express the joys and sorrows of the Hebrew people and their longing for God. The psalms are incredibly varied in tone. Some are solemn anthems of praise that once accompanied processions of great multitudes to the temple; others record the lonely cries of a faithful soul who feels abandoned by God.
This ancient prayer book of the Hebrew people is our principal prayer book as well. The psalms are everywhere in the liturgy in the antiphons and acclamations of the Mass, and most particularly in the responsorial psalm that follows the first reading. The psalm that is sung at Mass usually echoes the themes of the first reading, and sometimes even comments on it.
On this Third Sunday of Lent, we listen to the Exodus account of the stubbornness of God's people in the desert, and then the psalm comes to remind us: "If today you hear his voice, harden not your hearts" (Psalm 95:8).
In their wonderful variety, the psalms teach us how to pray.
Thursday, March 11, 2021

Follow along at Mass with your own Missalette.
Donation: $5.
Pick up your copy after any of the masses or visit our Parish Office
Thursday, April 8, 2021

The desire to be able to prove the existence of a divinity has troubled humanity since human consciousness first became aware of the divine. To this very day we are fond of saying that any number of things from sunsets to hot fudge sundaes are "proof that there is a God." We get so caught up in the story of "doubting Thomas" that we fail to notice that today's Gospel gives us John's account of Pentecost, the bestowing of the Holy Spirit upon the disciples following the Resurrection.
Thomas, evidently, missed out not only on seeing the Risen Christ, but receiving the Holy Spirit as well. This is not to be taken lightly and, perhaps, makes Thomas' disbelief a bit easier to comprehend. It also makes his professing that Jesus is his Lord and God the only time the New Testament explicitly refers to Jesus Christ as "God" more remarkable.
Thursday, November 5, 2020

The St Martha church bulletin is provided by the J.S.Paluch Company to us at no cost. The bulletin is solely funded by the support of the local business community through business sponsorships. In order to continue to receive this, and many of the other benefits J.S.Paluch provides our church, we are looking for additional sponsorships to fill up the open space on our two sponsorship pages.
If you own a business, know of someone who does, or just want to celebrate an anniversary, birthday or special occasion, please consider promoting the business or event in our church bulletin. For more information on the sponsorship program, please contact our J.S.Paluch representative Patrick Falco directly.
He can be reached by email at falcop@jspaluch.com, or directly by phone at (910) 200-8383.
Also, if you have any experience in sales and would like to help the church fill the sponsorship page, please contact Mr. Falco as well. The church thanks you for your consideration and support.
Thursday, April 8, 2021

Giving isn't just about donating. It's about making a difference. Be a part of the difference by making a gift today!
www.isupportabcd.org
One of the easiest ways for you to support the mission of the Church, is to leave the Archdiocese of Miami or any of its parishes, schools, or agencies a bequest. A bequest is a gift made to charity in your will or trust.
Contact the Office of Planned Giving for more information, (305) 762-1112.
"Thomas answered and said to him "My Lord and my God!" Jesus said to him, "Have you come to believe because you have seen me? Blessed are those who have not seen and have believed" – John 20: 28-29
How many times in our stewardship journey do we find ourselves to be a "doubting Thomas" before we proclaim, "my Lord and my God"?
Thursday, April 8, 2021

Your gift helps to fulfill the mission of reaching Miami Shores for Jesus Christ.
Su ofrenda nos ayuda a cumplir la misión de traer el mensaje de Jesús a Miami Shores.
April 3rd & April 4th, 2021
5:00pm $ 916.00
8:30am $ 1,477.00
10:30am $ 1,762.00
12:30pm $ 1,414.00
Total $ 5,569.00